Feature: BRIDAL GUIDE
Our feature with bridalguide.com!
Thank You Bridal Guide!  
7 Expert Bridal Hair Tips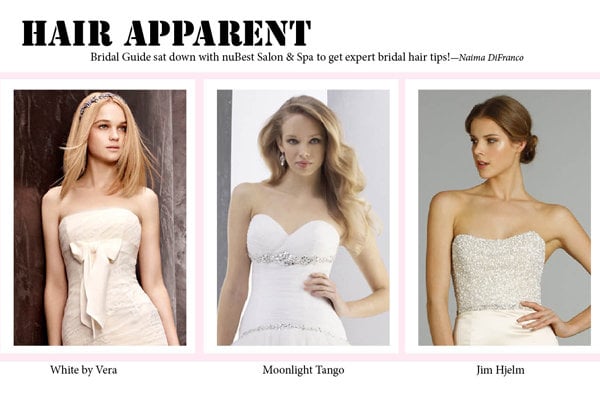 Bridal Guide
 made a visit to 
nuBest Salon and Spa
 in Manhasset, NY, which is considered the premier beauty destination of Long Island, catering to many high-profile clients, such as Jamie-Lynn Sigler, LL Cool J, Lance Bass, and Joey Fatone (among many others), as well as offering amazing bridal packages. 
1. Hair treatments are becoming very popular for brides-to-be. Which products or treatments do you reccomend?
Weekly conditioning treatments are recommended, and shine glaze can be applied right before the wedding for that extra special shine. This will make your hair look luscious, healthy and shiny in photos. A few ideal treatments offered at nuBest are the Steam Conditioning Treatment, Kerastase Treatment, and Moroccan Oil Treatment.
2. What face shape is best for updos? Or which style updos work best for different face shapes?
The appropriate updo has much less to do with face shape than other factors, such as headpieces/hair accessories and the wedding dress. These factors will be more helpful in determining the best hairstyle, whether that is an updo, half up, side sweep, or a down style. The cut and style of her dress may look better with a certain hairstyle; for example, high necklines look better with updos. Curled down styles have become increasingly more popular lately.
3. What are good bridal hairstyle options for women with short hair?
"Women with short hair have as many options as those with long hair. One option for short hair is adding extensions. Or, use chic hair accessories or lovely finger waves to add glamor to the look."
4. When should a bride have her hair cut and/or coloured before the wedding?
The bride should choose a stylist/colorist and develop a relationship with him or her at least six months before the wedding and maintain that relationship up until two weeks prior to the event. This way, the stylist will understand what works for you and be able to accommodate your needs. Developing a relationship with your stylist will calm big-day hair jitters and create a more relaxing experience.
5. When should a bride have her makeup and hair trials?
The bride should definitely have both of these trials on the same day, one following the other, so she can see how the hair and make up look together. This should be done approximately two to three months before the wedding so that changes can be made if necessary. Many brides have more than one trial so they can try out different looks. If possible, the trials should be on the same day as the dress fitting so that the bride knows whether or not she likes the entire look together and it is fresh on her mind. FYI: A bridal boutique, Wedding Salon of Manhasset, just recently opened right next door, which makes this convenient!
6. Any hair/beauty tips you might have for a bride?
1. Hair should be shampooed the day before the event in order to extend the longevity of the style.
2. Don't over do it with the hairspray! Too much hairspray can weigh hair down and make it look dull.
3. Use every product in waterproof! You don't want picures with mascara running down your face.
7. What specific bridal services does nuBest provide?
nuBest salon and spa offers an array of options for brides, grooms and bridal parties. All your beauty needs, including hair, skin, makeup and nails will be personally attended to by one of our experts. Leading up to the event, we offer services such as facials (ex: nuBest Signature Facial) and massages (ex: nuBest Signature Massage), among other options. When the big day arrives, services including Bridal Make-up Trial/Application, Eye Lash Application and Bridal Trial/Styling are available with an appointment. Appointments and consultations can be booked a full year in advance. Lastly, we offer at-home services (at additional cost) as well as special bridal party arrangements.
A full list of nuBest salon and spa's services can be found at 
nuBestsalon.com
—Naima DiFranco